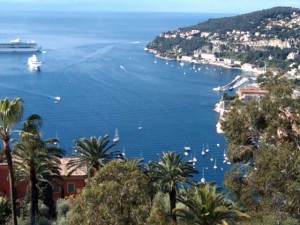 Remember Grace Kelly and her tragic and beautiful story? We took a gorgeous drive from Cannes to Monaco today and her presence is still very strong. This principality is ruled by the Grimaldi family and it is one of the most beautiful locations in the world.
We visited the palace and saw the church where she married her prince. We watched the changing of the guard and saw the track and streets where Formula One racing takes place.
As it was our last day on the tour we felt fortunate to spend it in such a fantastic place. After Monaco we toured the Fragonard perfume factory–where they manufacture their own perfumes from only natural\pure ingredients. They are not exported and so we had the chance to buy some very unique fragrances–bring home French perfume was definitely a bonus treat. 
Next we were on to Nice, one of my favorite locations. We had three hours of free time when most people shopped, but Ms. Crowell and I sat in a sidewalk cafe eating mussels and french fries–delicious but enough for 10 people.
The kids had bed check at 10:00 and are in their rooms preparing their suitcases. It is bittersweet to end this tour; two years of planning and anticipation hopefully resulted in the trip of a lifetime for each of them.
Personally, I can't think of a better group with whom to travel–I have thoroughly enjoyed my roomie, Mrs. Dempsey, and all of the adults of Bus #1 + our awesome kids. Getting together with all of the great participants from Bus #2 each night and at meals made it even better. Perhaps we can get Randolph involved in the trip that takes place two years from now–what do you think Randolph? Thanks for the opportunity to share the experience with you!