The Leaning Tower of Pisa! Without the best weather we arrived in Pisa, Italy and enjoyed every minute anyway. The kids took some wonderful pictures and as always, shopped for souvenirs. Dana Anderson says that instead of EF for Education First it should be SF Souvenirs First. We are bringing home a lot of "stuff".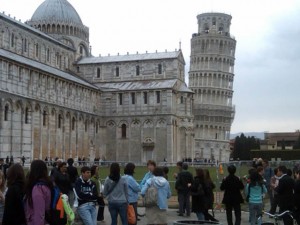 Now we are in Cannes, France in a lovely hotel not far from the beach. As you may know this is near to where Brad and Angelina have purchased a home. Previously they stayed in this hotel in room #6, the room that Mrs. Dempsey and I are sharing and Brad Pitt slept in the same bed that I have tonight.
It's a good story, don't you think? 😉 We will see the home that they bought tomorrow, along with Monaco and the formula one race tracks. Tomorrow is Nice, the nicest place I've ever been and most likely our best day yet.
The day after tomorrow is our trip home. As wonderful as our trip has been, I am really missing my husband and my daughter and am anxious to head home. You can bet I'm not the only one feeling this way! Bon Nuit du Franc.