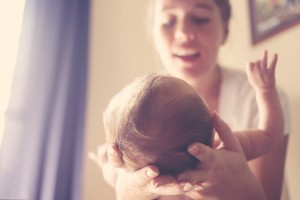 I'm bringing back this blog post from 2007 for my daughter Bryna and all of the other working moms out there–to point out the benefits of a rich work life. As Bry headed back to work today, with her beautiful son Blake just over two months old, she was filled with excitement to see her work family and students and with guilt for leaving her little boy.
Bryna comes from a home in which I've always worked, both of her grandmothers worked, lots of moms worked. She also has a close aunt, Charisse,  who was a stay at home mom. What I know for sure is that while I was feeling guilty for not having home cooked meals on the table or sending her brother to Charisse's house for day care, Charisse was feeling guilty for not adding to her family's income or providing the same vacations we did. Here's the thing–it doesn't matter! The kids all turned out well as adults, they were well loved and supported in all that they did, and they all survived. Mine without the home cooked meals and hers without as many vacations.
Families come in all different shapes and sizes, with a million different configurations. Let's stop judging each other and more importantly OURSELVES. At fifty years old I'm finally learning to say, "this is who I am and who I am is good enough." Took me long enough.
Moms: Stay home if you want. Go to work if you want. Whatever you choose, give yourselves a break–that choice will dictate different things for your family–not necessarily better or worse things, just different.  Most of what you're worrying about is craziness, live and enjoy–stop needlessly wasting mental energy on guilt. Just love your babies.
Love,
"Grandmother"