At an Education Week Leadership Forum this week, I had the opportunity to meet two women who have influenced my thinking for many years. Diane Ravitch and Deborah Meier. Ms. Ravitch and Ms. Meier write a blog that I read regularly, Bridging Differences, in addition to having individually authored several books on education to include Meier's In Schools We Trust and Ravitch's The Death and Life of the Great American School System. Their straightforward advocacy for a free and equal public education and their perspectives on the issues we face in education greatly influence my thinking and leadership. I'm not someone who would pay $5 or take the time to walk down the hallway to meet 99% of the "famous" people out there—but I have to admit, I was thrilled. When they sat down at the table next to ours, I was positively star struck.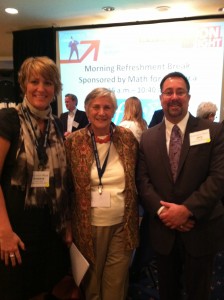 I especially appreciated the thoughts they shared on high stakes testing and federal "reform". When they spoke of policy makers and our political leaders expecting that the way to improve our schools is through "PUNISHING, CLOSING AND FIRING", I wanted to stand up and cheer. Yes, I get that it's our responsibility as administrators to hold all employees responsible for their performance on the job. I'm not reluctant to have crucial conversations with employees. What I do not agree with is the notion that people perform better from a position of fear.
How do we empower our teachers and encourage them to collaborate more with a sharing of ideas and an openness to the idea that they can learn from one another? How do we break down the walls surrounding each classroom that causes teachers to stay inside and keep what they do quiet? How do we encourage teachers to critically analyze their own practice in an effort to improve? NOT through fear and competition and threats. Fear doesn't help anyone do a better job, including me. Fear doesn't help teachers to teach more effectively and it doesn't help our students to learn either. Or better put by Deborah and Diane, "Fear is not an incentivizing tool." For anyone. Thanks Ladies, for leading and writing and inspiring educators just like me.